Sing, Laugh, Dance: Our Top 10 Family Event Picks for 2013
2013 was a big year for big and little audiences—that is, live entertainment for the whole family. Did you see any of these fam-tastic shows?
If so, we'd like to know—as would our other family-fun fans. Be sure to check your email after an event to review the shows you've attended. We'd love to share about your unforgettable experiences on our website.
Like this! Here are a few of our favorite family event reviews from the last year.
1.  Wicked (Touring) – 4,630 Fan Reviews in 2013 – 4.83 Star Rating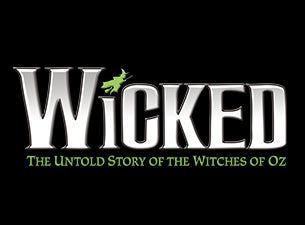 There are so many reasons why Wicked tops our list. The show is the winner of more than 50 major awards, including a Grammy and three Tony Awards. Celebrating 10 years in October 2013, the untold story of the Witches of Oz is again touring the states. Find out where and grab your tickets to Wicked before it's sold out!
What do fans say about the live experience?
By Anonymous: "My son and I went to see Wicked and it was more than we could have ever imagined. Each scene we thought could not get better but it did. The costumes the music the talent and the sets were absolutely beautiful. Thank you!"
By Anonymous: "This show hands down has to be the best I have ever seen live! It was a wonderful show and I will pay again to see it! Great job to the entire cast for such an unforgettable performance!"
2.  Wicked (NY) – 2,738 Fan Reviews in 2013 – 4.81 Star Rating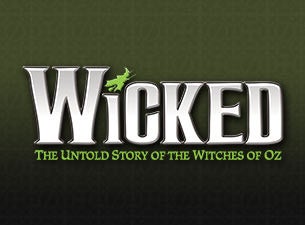 Yes you read that right. Wicked is listed twice on our top 10, and in the #1 and #2 spot on our list! Why? Because it's the Big Apple! Wicked opened on Broadway on October 30, 2013, and it's still here! If you're in New York—or need an excuse to be—individual Wicked (NY) tickets are still on sale:
What do fans say about the live experience?
By bigbpreach: "I surprised my wife with a trip to Broadway to see WICKED for our anniversary and we both loved the show. The props and stage sets were intricately detailed and completed with high quality. The sound was clear and we could hear every detail of what was happening on the stage. The acting and singing were impeccable! The story line was unique and different and would recommend anyone to see if they get a chance!"
By CarolineO: "It was the highlight of my trip to New York City. I loved Jackie Burns as Elphaba. What a voice! My 11 year old daughter and 76 year old mother also loved it. It was a beautiful story and wonderful enjoyment for all ages!"
3.  The Lion King (New York, NY) – 1,736 Fan Reviews in 2013 – 4.74 Star Rating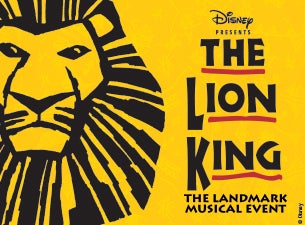 What, you've only seen the movie? Did you know more than 65 million people around the world have discovered the thrill and majesty of this truly one-of-a-kind musical? We're bursting with pride. (Get it? Lions.) The best news? There's still tickets to the Lion King, but you better pounce on them right away:
What do fans say about the live experience?
By Anonymous: "Unforgettable and vivid experience. I may have cried a few times because it was so beautiful. The play was very lively with very talented actors."
By TangoTT: "Wow. My kids and I were amazed. A must see show. They were even dancing next to our seats."
4.  Jersey Boys (Touring) – 2,029 Fan Reviews in 2013 – 4.69 Star Rating
The winner of Best Musical Award on Broadway, in London and Australia, and named the number-one show in Las Vegas, Jersey Boys continues to break records in cities across America—and it's currently on the road. This jukebox musical tour takes you across country and behind the music of Frankie Valli and The Four Seasons.
The performance isn't one to miss, so bring your friends or family and pick up tickets to the Jersey Boys:
What do fans say about the live experience?
By Borat: "My wife and I attended Jersey Boys, in part, to celebrate our anniversary. What a great way to celebrate ANYTHING! The actors were energetic and sang their parts almost like the originals. They were full of energy from the first number to the encore. The music of The Four Seasons is a part of my life, and this show allowed me to relive those days from years gone by. From my perspective, the whole audience was totally into the music and the story. It was a wonderful performance, and one I'd highly recommend to anyone who loves good music."
By DHRH: "Took me back to when I was little. Loved it all. Had a great time singing to the music."
5.  Jeff Dunham – 2,972 Fan Reviews in 2013 – 4.68 Star Rating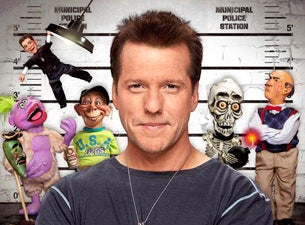 A comedian, and a truly amazing and hilarious one at that, as evidenced by his chart-topping Comedy Central specials, a DVD that's sold over seven million units, and some of the funniest videos on YouTube.
Lucky for us, Jeff and his puppets are always touring, and they're sure to put you in stitches. See if he's coming to a city near you and grab your tickets to Jeff Dunham today.
What do fans say about the live experience?
By grammyJ: " My friends and I went to see Jeff Dunham, and we all laughed until our stomachs ached. Even guitar man was great. Achmed, Peanut, Walter….Can't even decide which one is my favorite—they are all GREAT. I would go again in a heartbeat and so would all the friends that accompanied me. WE HAD A BLAST!"
By Anonymous: "Jeff Dunham is a genius comedian and brings his puppets to life. It was a hysterical performance and I thoroughly enjoyed it!"
6.  Newsies – 1,401 Fan Reviews in 2013 – 4.60 Star Rating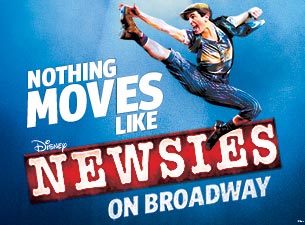 Extra, extra! Nothing moves like Disney's smash-hit Broadway musical Newsies! Set in New York, it's the story of an unlikely band of underdogs who take on the biggest names in publishing in a fight for justice The Hollywood Reporter calls "INSPIRATIONAL."
Catch this record-breaking, Tony Award-winning musical on tour while you can. Grab tickets to Newsies today.
What do fans say about the live experience?
By RJS17: "A great show for the family. The singing was great, The dancing was absolutely amazing. There was so much energy by the cast. This was our first show on Broadway and couldn't have been happier."
By BMC216: "I have seen many musicals/plays both on and off Broadway and this was by far the absolute best show! The crowd was completely drawn into the performance which just fueled the performers even more. I had a consistent chill throughout the entire show. I went back and saw the show again the next day because I loved it so much. Will definitely be seeing it multiple times in the future as well."
7.  Radio City Christmas Spectacular (NYC) – 2,647 Fan Reviews in 2013 – 4.58 Star Rating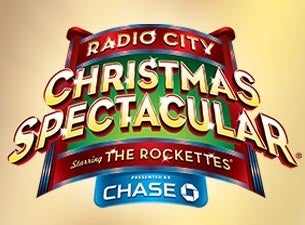 Yep, we love New York, especially around the holidays—and there's nothing quite like seeing the Radio City Christmas Spectacular! Featuring the famous Rockettes, this annual holiday stage show presented by Radio City Music Hall is a NYC classic. 140 performers in 90 minutes? Wow.
While the off-season is now, it's not too early to plan this into your 2014 holiday calendar. We'll have more details as Christmas approaches, so stay tuned by liking us on the Ticketmaster Facebook page.
What do fans say about the live experience?
By SukeyNY: " I am totally in awe of how beautiful the Rockettes are to watch. So precise and flawless. If you haven't been to the Christmas Spectacular you are missing out. If you've seen it before, it's definitely worth the trip out to see them."
By MsGrits: " Way more than expected—the Rockettes were perfect. The projections on stage and the walls were gorgeous! It was like touring NYC all decorated for Christmas; the 3-D was a huge surprise. The Biblical scenes were beautiful and moving, and the lesson about what really matters during the holidays touched our hearts. BRAVO!"
8.  Annie (NY) – 1,356 Fan Reviews in 2013 – 4.52 Star Rating
The timeless story. The classic characters. The unforgettable songs. We now know why Bloomberg News called this show "An extraordinary evening." Annie on Broadway played its final performance on January 5, 2014.
What do fans say about the live experience?
By TheaterBarb: "The talented kids, the singing, choreography, the upbeat story wonderful characters….what else can I say but that I loved it. Great evening at the theater. We had great sets too!"
By Ms1234567: "I enjoyed Annie very much. It was very well done. They took out and added the right amount of scenes so it was perfectly enjoyable. The music and costumes were fantastic. You can tell everyone really enjoyed the show; the crowd was VERY enthusiastic."
9.  Blue Man Group – 1,754 Fan Reviews in 2013 – 4.44 Star Rating
Formed back in 1987, the Blue Man Group experience is still rather impossible to describe—you just have to see it to believe it! People of all ages agree, a BMG performance is intensely exciting, outrageous and utterly unique.
Blue with envy? Grab tickets to the Blue Man Group to catch them perform live and see for yourself.
What do fans say about the live experience?
By aftrbnr: "It is a show that is unlike no other. Spontaneous, exciting, interactive and enjoyed by all ages."
By Amanda55: "I've been to Blue Man Group twice now and every time I go I always leave laughing and full of energy!"
10.  SPIDER-MAN Turn Off The Dark – 1,500 Fan Reviews in 2013 – 3.83 Star Rating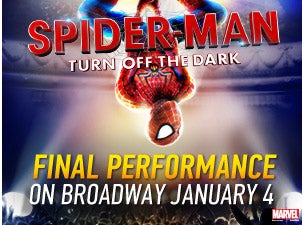 Who isn't a fan of the amazing web-slinger Spider-Man? With pulse-pounding romance, jaw-dropping thrills, and music by Bono and the Edge of U2, this is one of Broadway's most action-packed adventures.
With highly technical stunts, including aerial combat scenes and actors swinging from "webs," Turn Off the Dark transforms the Marvel superhero story into an unforgettable live show. Catch tickets to Spiderman while you can.
What do fans say about the live experience?
By MomOfASpideyFan: "We thought the music, action, and staging were absolutely amazing. The show was action packed and they did a wonderful job making sure the actors were safe. We were very impressed with the dialogue – great writers! Overall we had a wonderful time and thoroughly enjoyed ourselves."
By Lorifrombayonne: "If this show comes back to NYC, I will see it again and take someone with me. The music was beautiful, the scenery was ingenious, the flying, thrilling. Our group of 7 ranged in age from 4 to 72. Everyone was deeply enthralled and entertained."